L i g h t
&
D A R K N E S S
ABOUT ME:

always sad and depressed. ^_^
Yep. That's Pretty Much It Thanks for Read-
but watching anime and reading manga keeps me alive so here I am teehe <3
Likes:
Cats, Quiet Places, Reading Manga, Meeting others with similar taste,
Jojo's Bizarre Adventures
.
Dislikes:
Mecha, Excessive Ecchi,
Children
, Sports, People (But I love you <3).
I have no hobbies other than watching anime and reading manga I'm a miserable being :c
My autistic way of rating:
WORKING ON IT
Best of the season:
Badges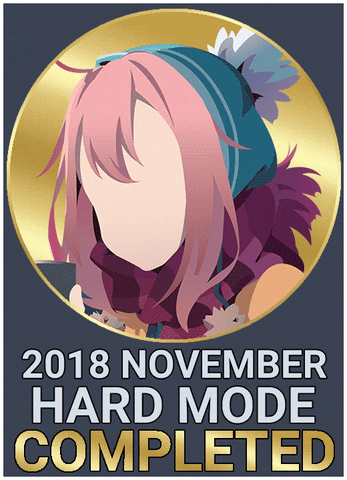 October 2018 Challenge
November 2018 Challenge
December 2018 Challenge
Genre Badges Soon TM
100 Followers (November 2018) (@Fume 100th follower thanks dud <3)
150 Followers (November 2018)
Thanks for reading!
profile still a work in progress
Activity History
Wed Jul 18 2018 Amount: 19
Thu Jul 19 2018 Amount: 1
Fri Jul 20 2018 Amount: 1
Sat Jul 21 2018 Amount: 3
Sun Jul 22 2018 Amount: 1
Mon Jul 23 2018 Amount: 10
Wed Jul 25 2018 Amount: 9
Thu Jul 26 2018 Amount: 9
Fri Jul 27 2018 Amount: 1
Sat Jul 28 2018 Amount: 1
Sun Jul 29 2018 Amount: 68
Mon Jul 30 2018 Amount: 1
Tue Jul 31 2018 Amount: 2
Wed Aug 01 2018 Amount: 1
Fri Aug 03 2018 Amount: 1
Sat Aug 04 2018 Amount: 1
Sun Aug 05 2018 Amount: 2
Mon Aug 06 2018 Amount: 2
Tue Aug 07 2018 Amount: 4
Wed Aug 08 2018 Amount: 1
Thu Aug 09 2018 Amount: 1
Fri Aug 10 2018 Amount: 3
Sun Aug 12 2018 Amount: 1
Tue Aug 14 2018 Amount: 47
Wed Aug 15 2018 Amount: 1
Thu Aug 16 2018 Amount: 2
Fri Aug 17 2018 Amount: 2
Mon Aug 20 2018 Amount: 2
Tue Aug 21 2018 Amount: 4
Wed Aug 22 2018 Amount: 2
Thu Aug 23 2018 Amount: 2
Mon Aug 27 2018 Amount: 1
Tue Aug 28 2018 Amount: 1
Wed Aug 29 2018 Amount: 1
Fri Aug 31 2018 Amount: 1
Sun Sep 02 2018 Amount: 1
Tue Sep 04 2018 Amount: 1
Sat Sep 08 2018 Amount: 2
Sun Sep 09 2018 Amount: 6
Mon Sep 10 2018 Amount: 3
Tue Sep 11 2018 Amount: 10
Wed Sep 12 2018 Amount: 3
Thu Sep 13 2018 Amount: 4
Sat Sep 15 2018 Amount: 2
Sun Sep 16 2018 Amount: 1
Tue Sep 18 2018 Amount: 3
Wed Sep 19 2018 Amount: 4
Thu Sep 20 2018 Amount: 2
Fri Sep 21 2018 Amount: 5
Sat Sep 22 2018 Amount: 2
Sun Sep 23 2018 Amount: 75
Mon Sep 24 2018 Amount: 20
Tue Sep 25 2018 Amount: 3
Wed Sep 26 2018 Amount: 4
Thu Sep 27 2018 Amount: 9
Fri Sep 28 2018 Amount: 9
Sat Sep 29 2018 Amount: 5
Sun Sep 30 2018 Amount: 6
Mon Oct 01 2018 Amount: 5
Tue Oct 02 2018 Amount: 6
Wed Oct 03 2018 Amount: 8
Thu Oct 04 2018 Amount: 8
Fri Oct 05 2018 Amount: 7
Sat Oct 06 2018 Amount: 4
Sun Oct 07 2018 Amount: 3
Mon Oct 08 2018 Amount: 5
Tue Oct 09 2018 Amount: 3
Wed Oct 10 2018 Amount: 6
Thu Oct 11 2018 Amount: 5
Fri Oct 12 2018 Amount: 3
Sat Oct 13 2018 Amount: 5
Mon Oct 15 2018 Amount: 9
Tue Oct 16 2018 Amount: 5
Wed Oct 17 2018 Amount: 2
Fri Oct 19 2018 Amount: 4
Sat Oct 20 2018 Amount: 3
Sun Oct 21 2018 Amount: 5
Mon Oct 22 2018 Amount: 4
Tue Oct 23 2018 Amount: 8
Wed Oct 24 2018 Amount: 4
Thu Oct 25 2018 Amount: 5
Fri Oct 26 2018 Amount: 6
Sat Oct 27 2018 Amount: 4
Sun Oct 28 2018 Amount: 2
Mon Oct 29 2018 Amount: 8
Tue Oct 30 2018 Amount: 4
Wed Oct 31 2018 Amount: 14
Thu Nov 01 2018 Amount: 6
Fri Nov 02 2018 Amount: 7
Sat Nov 03 2018 Amount: 4
Sun Nov 04 2018 Amount: 6
Mon Nov 05 2018 Amount: 5
Tue Nov 06 2018 Amount: 6
Wed Nov 07 2018 Amount: 5
Thu Nov 08 2018 Amount: 4
Fri Nov 09 2018 Amount: 4
Sat Nov 10 2018 Amount: 8
Sun Nov 11 2018 Amount: 4
Mon Nov 12 2018 Amount: 1
Tue Nov 13 2018 Amount: 9
Wed Nov 14 2018 Amount: 12
Thu Nov 15 2018 Amount: 3
Fri Nov 16 2018 Amount: 2
Sat Nov 17 2018 Amount: 2
Sun Nov 18 2018 Amount: 8
Mon Nov 19 2018 Amount: 8
Tue Nov 20 2018 Amount: 4
Wed Nov 21 2018 Amount: 6
Thu Nov 22 2018 Amount: 1
Fri Nov 23 2018 Amount: 2
Sat Nov 24 2018 Amount: 2
Sun Nov 25 2018 Amount: 6
Mon Nov 26 2018 Amount: 1
Tue Nov 27 2018 Amount: 2
Wed Nov 28 2018 Amount: 3
Thu Nov 29 2018 Amount: 2
Fri Nov 30 2018 Amount: 15
Sat Dec 01 2018 Amount: 5
Sun Dec 02 2018 Amount: 5
Mon Dec 03 2018 Amount: 1
Tue Dec 04 2018 Amount: 4
Wed Dec 05 2018 Amount: 8
Thu Dec 06 2018 Amount: 4
Fri Dec 07 2018 Amount: 1